14 Fire Prevention Tips Every Homeowner Should Never Forget
---
According to the research conducted by the National Statistical Coordination Board (NSCB), residential areas account for the largest fire occurrences in the Philippines, with National Capital Region (Metro Manila) registering as the most fire-prone area in the country. It consistently recorded the highest incidents of fire from 2010-2013.
The study further discussed that within that four year time frame, the top three reported causes of fire incidents were faulty electrical wiring/connection, unattended open flames, and neglected electrical appliances or devices.
For those living in condominiums, it's necessary to be more prepared since it won't be as easy to get help, especially if you're living on a high-rise building. While condominiums have fire insurance, you still must be prepared for any emergency. After all, prevention is still better than cure.
Check out these safety tips you should do to prevent fire in your home.
General areas in your home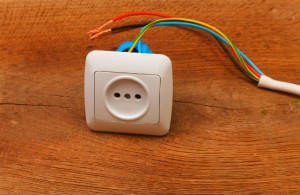 1. Check all electrical wirings regularly.
You can schedule it annually, or if you notice an irregularities (see warning signs). According to statistics, faulty electrical wiring/connection is the top reason for fire incidents at home. Replace or change frayed wiring, defective electrical fixtures, and damaged sockets immediately. Furthermore, make sure electrical cords are not running under carpets or across doorways.
Warning signs: Lights flickering, switch sparking, burning smell when you plug in appliances, among others.
2. Avoid electrical overloading.
Most homes use extension cords so they can use several devices at the same time. But you should avoid this practice because it may cause the sockets to overheat and possibly cause a fire. Your big appliances such as refrigerators and air conditioners should also have their own designated outlet.
Smart Tip: Unplug all your appliances and gadgets when not in use. Not only will this help prevent fires, but it will also help lower your electricity bill.
3. Install smoke alarms.
More than half of fatal home fires happen at night when people are asleep. This device sound an alarm when a fire starts, waking people before they are trapped or overcome by smoke.
Warning: If your smoke alarm uses a 9V battery, store it properly and away from objects like paper clips, coins, and aluminum foils. This type of battery is fire hazard because its terminals are close together. Cover the ends with an electrical, duct, or masking tape if you're not using it.
4. Do not smoke inside the house.
Use an ashtray and crush your cigarette stubs thoroughly to put out the flame. Douse it in water to make sure the fire is out.
5. Keep matches and other flammable objects out of your children's reach.
Put them in a high place away from your children's sight.
6. Keep the burning candles within your sight.
Also, use a candleholder specifically designed for candle use. Don't place it where it can't be knocked over by children, pets, or anyone else. Keep them away from items that can easily catch fire such as curtains, books, papers, and so on
.
Safety in your kitchen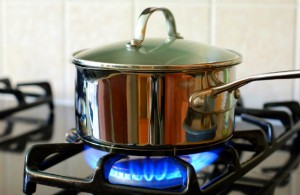 7. Keep an eye on your cooking.
A neglected cooking or stove is the third leading cause of fire incident inside the house. If you need to leave the room, ask someone to watch what you're cooking or turn off the stove instead.
Smart Tip: Use a timer especially if you are boiling or baking food to remind yourself that you're cooking.
8. Do not store any flammable substance or any corrosive liquid in the kitchen.
These include common household items such disinfectant spray, paint, paint thinner, bleach, and alcohols. Store them in a safe and dry location. Make sure to properly label where you will put it as flammable products. This will ensure that you won't be feeding the flames with volatile compounds in the event of a fire.
9. Make sure to inspect your kitchen before you go to sleep.
Check your Liquefied Petroleum Gas (LPG) tanks and make sure they are turned off.
10. Check your LPG tank.
Your tanks should have the safety cap and security seal. Make sure to use the correct hose and that the regulator is attached securely to the cylinder valve. You can check for leaks by applying soapy water.
Recommendation: Hose should be replaced every two years and regulators five years after it was manufactured.
11. Have a fire extinguisher on hand since the kitchen area is where most fires start.
The common extinguisher to use is the Class A:B:C since it covers ordinary combustibles including paper and wood (A), flammable liquids such as grease and oil (B), and electrical appliances (C).
Reminder: For preventive measures, inspect your fire extinguisher occasionally to see that it has no cracks, the locking pin is in place, and the handle is not broken. If you see any of these, ask an expert if it's still usable or you will need to replace your fire extinguisher.
Fire escape planning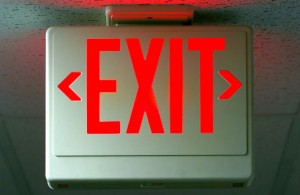 12. Know where the main emergency fire doors are.
If you're living in a condominium, make sure to check the arrangement of the emergency exits and how easily do the doors open or closes.
13. Make a fire escape plan including escape routes and meeting places.
Discuss this with your family members and ensure they know what to do in case of an emergency. For those in condos, check with your property management office as well if they have an emergency escape plan in place.
14. Have emergency numbers ready.
Place them in a visible location or near your telephone. You should also save the numbers in your mobile phone.
These are the hotlines to remember:
Bureau of Fire Protection (NCR): (02) 426-0219 or 426-3812
Red Cross: 143 or (02) 527-8385 to 95
You can also report a fire via SMS. Send a message to TXTFIRE Philippines, a non-profit organization that helps disseminate fire-related information (alerts and alarms) through their SMS dispatcher server. The numbers are 0918-6-888-888 (SMART), 0922-6-888-888 (SUN), or 0916-4-888-888 (GLOBE).
---
Source: Written by Zipporah Antonio | Zipmatch – March 19th, 2015
Original Article Link: Zipmatch Site